Weigh the waste – An IBNII Initiative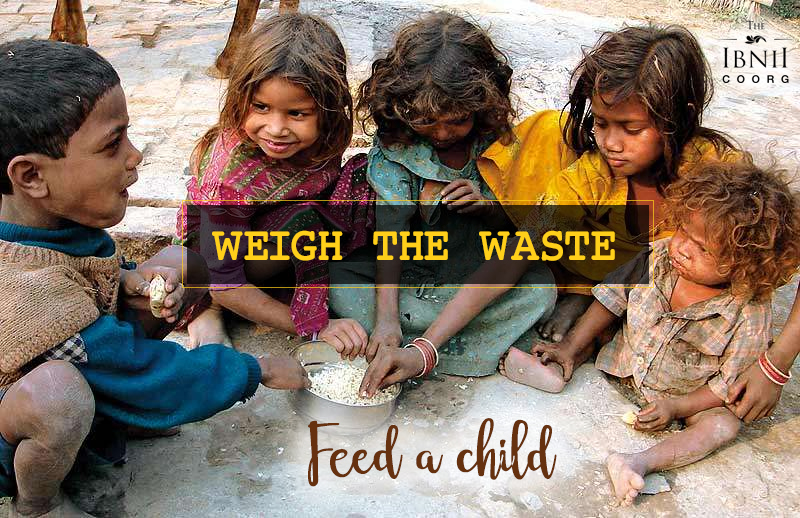 Over one third of all food produced globally goes to waste and if food waste were a country it would be the 3rd largest emitter of greenhouse gases. 25% of the world's water supply is used to grow food which is never eaten.
The statistics on food waste are mind boggling, yet we see so much food wasted around us all the time. In India, you will see food wasted at every meal and more so in every restaurant and at every wedding or party. The buffet system is also a large segment contributor to the waste. There are piles of food stacked on plates that will never be eaten. Some countries in the world like Germany penalise food waste and in India there are some food courts that do the same. But, largely, this is a massive issue in many ways.
Food waste not only takes away produce that could have been utilized to feed a large part of this world that goes hungry, but it also comes with a huge waste management problem and so much of it goes away without ever being composted.
As the world deals with serious climate change problems and tries to grapple with sustainability, it is our prerogative to be more conscious both as consumers and as businesses.
At Ibnii, the food that is served is as fresh and local as it gets, it is grown and harvested in Ibnii and some of it comes from farms nearby. The food made has no preservatives and everything is freshly made from scratch, even the jams and the ketchup. This makes the produce even more precious. When you grow your own, you know the challenges of what it takes to make it happen and do so sustainably.
With this in context, at Ibnii, we observed that every day, the food waste was piling up and our composting units were overworked with fourteen large bins collecting food waste daily. Guests would order food and then a lot of it would go to waste on their plates. This was despite reducing portion sizes and informing them that any number of orders could be placed.
Then, along came the idea of weighing the waste and charging a fee for the food wasted. This fee would go into a donation box. The funds would be collected and then they would be channelled to a not for profit and utilized to feed underprivileged children. Currently Ibnii is tied up with an orphanage in Madikeri for this initiative.
How does weigh the waste work? The process is simple, at the end of the meal, whatever is left over is weighed on a weighing scale in front of the guests and the quantity is notified. This then, is tracked through the course of the stay and the guests are given the final quantity at checkout against which they pay for their waste. i.e., INR Rs. 100 per 10 grams of wastage. 
This has now been running for six months now and we have seen a drastic decrease in the quantity of food waste that is generated. From fourteen bins every day, we now only need to manage waste for one bin a day. This has not only helped us create awareness amongst our guests for food wastage and related issues, but it also gives us hope that this will build a more conscious and responsible community of people who will invest in spreading the word and save the world from food waste and hunger.
At Ibnii our respect and love for mother nature overrides all else and we try and stay committed to the cause of sustainable life and living in all our practices.
——————————————————————————————————————————————————————————–
Shreya Krishnan
Vice President – Marketing and Communications at Anviti Insurance Brokers
Shreya is a CSR Specialist and Corporate Grooming Consultant. Her interests lie in Activism, Dance, Theatre, Poetry, Blogging, Modelling, Acting. She considers herself an Earth Warrior and is an Event Anchor and Trainer. She is a pageant winner and public speaker.
She is an advisor to Ibnii.
Posted on December 4, 2019 | 12:45 pm | 0 Comments
Copyright@ The IBNII. All rights reserved. Terms and Conditions | Privacy Policy