The IBNII Earth Loyalty Program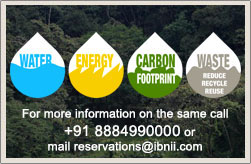 The IBNII Coorg has always been an ardent supporter and campaigner of Nature. This Loyalty Program is designed for those who share the same passion for the Earth and the Environment as we are at The IBNII.
The IBNII Earth Loyalty Program is ideal for Nature enthusiasts who practice REDUCE, RECYCLE/UPCYCLE and REUSE ; who pay penance by offsetting CARBON FOOTPRINTS and who believe in SAVE, CONSERVE and PRESERVE NATURE and her Resources.
Sustainable Practices at The IBNII Coorg
When Einstein famously said, 'Look deep into Nature, and then you will understand everything better', it was perhaps a revelation from the greatest mind the source of its greatness. At Ibnii, we understand the spirit behind his words. We have realized everything is Nature and not acknowledging this truth is the root of all our problems, including the environmental crisis. The last century is witness to the exponentiality of the human smartness but equally saw the depravation from the human disconnect with nature. We have reached a point where it's not enough if just the leadership of the world and scientists conjure up a solution but requires each of our imminent participation in doing our bit both personally and through our ventures.
With this ideology forming the core of who we are, we wish to create a successful model that not just exemplifies what is possible but also stands inspirational for others to emulate. The Ibnii is barely a year old but our commitment to sustainable practices and responsible living is a deeply entrenched one – where we believe in taking individual responsibility to do our part to conserve nature, reduce carbon foot-print and manage waste efficiently.
Water Management
We have 4 large water catchment to save the copious monsoon the region receives annually, to not just sustain our needs but most importantly to support our fauna through the dry months. Besides serving a valuable purpose, these lakes are now a central attraction for our guests offering us an opportunity to inspire them with the story of its creation.
We didn't stop there. We have installed a state of the art STP plant to recycle all our used water to further minimize dependency on fresh water. We use this recycled water for all our landscaping purposes.
Waste Management
At Ibnii, we have in place a robust waste segregation system where the organic waste is used in our Vermicompost to generate generous quantity of high-yield, organic manure which is in turn used in our green house to grow fresh organic vegetables and fruits. We also use the excess manure in all our landscaping.
LEED-IGBC Certified
The Ibnii is a LEED-IGBC certified resort. LEED is the world's premier and most widely recognized green building rating system partnering in India with IGBC to certify energy and resource-efficient, sustainable, cost-effective buildings that impose minimal stress on the environment while enhancing personal health.
Commitment to Community
At the Ibnii, we understand the importance of being relevant in the community we operate in. We have set in motion a few guidelines to satisfy this commitment:
Hire local – a task force set to train and recruit local talents for operations.
Buy local – shifting most of our purchases and developing local vendor base and supporting local farmers.
Engage local – In the coming years, we see ourselves proactively participating, supporting and working together with the issues concerning the local community helping us integrate and add value in the process.
Everyday Smart Practices
'Paths are made by walking' and we couldn't agree more with Franz Kafka. For a new habit to be internalized, we must practice it relentlessly every day until it becomes our second nature. We realized it's not enough to have our commitments written on paper but to action it out in small forms on our SOPs so that it percolates down to the last man standing. Though this is a continuous process, these are some of the things we have enshrined in our SOPs.
Earth Hours
Control the use of power by regulating distribution during certain hours every day.
Control the use and expense of water using measured release on a daily basis.
Discourage Plastic Use
Though some bio-degradable plastic is currently in use, we are in the process of slowly shifting to jute and other alternative natural products.
We restrict plastic bags into the resort and in the event it is brought, we will safe-keep it and return at the time of check-out.
EV Only Zone
When construction activities fully ceases, we strive to be a vehicle free zone with only electric buggies for internal movements.
Zero vehicular emissions / Zero noise pollution
Reforestation Project
Few trees felled during construction is being recompensed by planting more trees that are endemic to the region.
All remaining land, as part of the founder's vision, is restored to natural process of afforestation.
Minimal Paper use
With our digitizing initiative underway, we are already on the path of becoming minimal paper usage property.
Where paper cannot be replaced, we are commisioning recycle paper designs.
Greenhouse Organic Farm
With our greenhouse partially ready, we have already harvested vegetables, leafy greens and potherbs.
Our menu is dynamically designed to use our daily organic produce which is not just fresh but also offers a healthy choice for our guests.
Upcoming Projects
TIECOP – The Ibnii Environment Conservation Program is a strategic initiative to enable us to become self-sustainable in multiple areas in the next 5 years. The foundation for the program was laid on Sep 1st 2016 and at its heart lies our ecological preservation initiative which we hope will serve as a model for corporate governance vis-à-vis responsible tourism.
We see ourselves committing more in community development programs benefitting the local community and thereby help creating a strong sense of mutual trust and respect among all stakeholders.
We constantly strive to empower women in all areas of our operation and are embarking on a train and recruit model to improve their livelihood and standard of living.
We propose to construct internal roads using plastic collected and recycled within Ibnii.
With the Ibnii attracting travellers from all parts of the world, its incumbent upon us to showcase the cultural heritage and folklore of the local community to a diverse audience in order to promote and create rewarding opportunities for local talents and artists.