While most travellers know Coorg as the land of enchanted forests and tranquil weekend retreats amongst coffee plantations, very few know of the history of Coorg and how big a role in plays when it comes to influencing the cuisine of this region. Unlike many Indian communities, the people of Coorg embrace non-vegetarian food and will happily serve alcohol and non-veg food even during weddings and other auspicious events, something which is hard to find in other parts of India.
A Brief History of Coorgi Food
Coorg is home to many firsts, and the people of Coorg – the Kodavas are the descendants of hunter-warrior tribes that used to stay in this region years ago. Hunting and gathering come naturally to the people of Coorg, so much so that today Coorg is home to the only community in India who can carry guns without any necessary permits.
The people of Coorg have an innate love of living healthy while eating good, wholesome food using ingredients which are found naturally in the flora and fauna of the region. Their culinary repertoire happily embraces many eclectic influences of the south while adding in their own personal touches.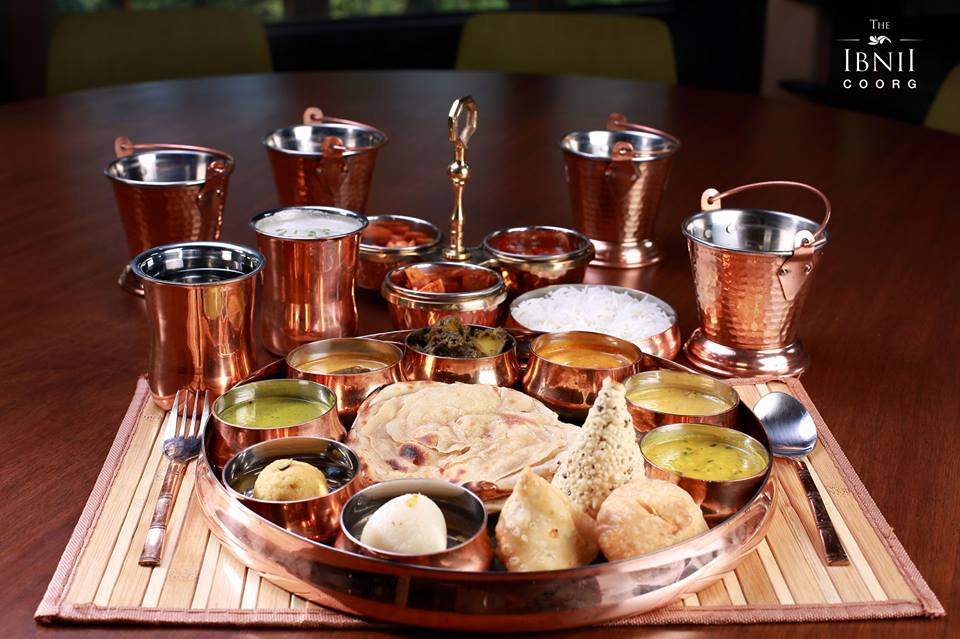 Speciality Dishes of the Region
For centuries, the region of Coorg was inaccessible to outsiders because of its landlocked nature, ensuring the people of the region used local ingredients and spices to spawn the delicious cuisine that we know and love today.
• Rice-based Specialities
Rice has always been a staple of the Coorg diet, and therefore it is not surprising to see it being used in many forms where it serves as the base. Breakfast usually consists of AkkiRoti, a thin pancake made with rice flour and cooked rice mashed together. For lunch, there is either Puttu, Paaputtu (stramed rice mixed with coconut and sugar), Kadumbuttu(rice flour balls)or Nooputtu (thin rice vermicelli). These rice dishes can be had simply with some wild coorg honey or combined with one of the hearty curries mentioned below.
• Kachampuli
Kachampuli is a thick, black, pasty sauce which serves as the base for most Coorgi dishes, especially non-vegetarian ones. It is made from the slightly fermented juice of the Gummi-Gutta fruit, and is very sour with fruity notes. Most Coorgi households have it ready to use, as it acts like a preservative for chicken, mutton, and pork dishes.
• Pandi Curry
This amazing Pork dish is synonymous with Coorgi cuisine today, and is always present at any Coorgi special occasion, including marriages and other gatherings. Tender and supple pieces of pork or wild boar are marinated and cooked with Kachampuli and other spices such as coriander seeds, cumin, pepper, and mustard resulting in a piquant dish bursting with flavour. This is then served with Kadambuttu, Nooputtu, PaaputtuorAkki roti.
• Baimbale Kari
The bamboo shoot or baimbale curry is another famous dish from this region. With the onset of monsoon, fresh young bamboo shoots are collected before they become too hard. The shoots can even be salted and frozen to be cooked at any time of the year, and is cooked in gravy form which goes exceptionally well with rice or chapattis.
• Other Mentions
Coorgi cuisine is as vast as the forest that can be found in this place, and includes several delectable dishes such as KoliChuttadh (grilled chicken marinated with spices), Attukalsoup (peppered lamb shanks in broth), Kummu (mushroom) curry and soup, Kari Bale (roasted raw banana patties) ToppuPalya (fresh double beans fry) and AkkiPayasam.
At Ibnii, we strive to serve authentic Coorgi cuisine to world-weary travellers which calms your soul with its grounded roots, while educating them about the regions' hunting and gathering practices. Come, and take a bite of heritage and history at The Ibnii.